About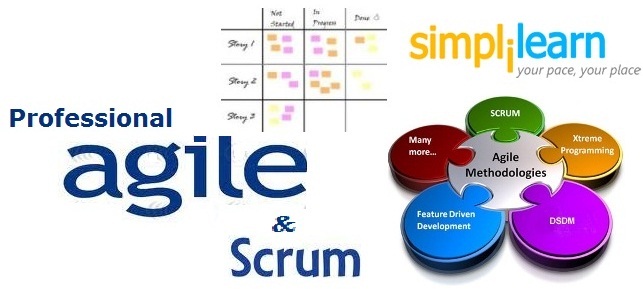 Introduction to Agile & Scrum:
This class is for anyone interested in an introduction to the Agile methodologies. We will cover the different types of Agile methodologies with emphasis on Scrum. We'll also go more in-depth on how Scrum can help you in the way you work with your company no matter what team size or industry. Agile revolutionized the way we work as individuals and teams and it adds transparency and ways to communicate and collaborate in an iterative fashion versus waterfall. This course is for anyone who has an interest in applying Agile and Scrum for their teams even after receiving a certification and then having still having a lot of questions on the best implementation.
Introduction to Agile and Scrum
Agile Methodologies
Scrum Roles
Scrum Ceremonies
Scrum Artifact
Scrum best Practices
Scrum Planning
Scrum Estimation
Monitoring Scrum Project
Advance Scrum concepts
Click Here to Download Course Agenda

What you'll get out of the class:
An overview of different types of Agile methodologies.

In-depth intro to Scrum which helps you understand if it is right for you.

Agile and Scrum online simulation tests

Course completion certificate on Professional Agile & Scrum
1 Day Classroom
90 Day E-learning Included
8 PMI PDUs Offered
Courseware accredited by EXIN
Hard Copy of the Courseware Included
The Agile and Scrum course is primarily targeted at Scrum Masters and Agile Enthusiasts who are responsible for the successful use and/or rollout of Agile and Scrum in a project or enterprise. A person attending the Agile & Scrum training must:
Simplilearn is a leading provider of a suite of professional certification courses that address unique learning needs of working professionals.
Trained over 75,000+ professionals.

Reach across 150+ countries.

Over 300 workshops globally per month.

Over 40% of our participants are from fortune 500 companies.

Accreditations & Approvals from over 10 leading global bodies.

Q&A sessions at the end of each module.

24/7 support via chat

,

phone and e-mail
Richard Brown
Simplilearn Americas LLC
www.simplilearn.com | E mail: richard.brown@simplilearn.com

| Ph: +1-281-668-4300
Click here to Know more : E-learning Sample Videos : About US
Schedule
February 21, 2014
9:00 am to 6:00 pm
Venue
Atlanta, GA
Atlanta, GA
Atlanta, GA
United States